Join us for Tails and Tales at the library this summer as we celebrate books and animals! We have a program for everyone, ages 0-100+!
The program starts May 24 and runs through July 2. Stop by the library to pick up your reading tracker, or download it below. As you complete activities, bring your sheet in to the library, or send a photo to us at CentervilleSummer@gmail.com or through a Facebook message. Everyone who participates can earn a FREE book, and school-age kids through adults will also be entered into a drawing for a Walmart gift card.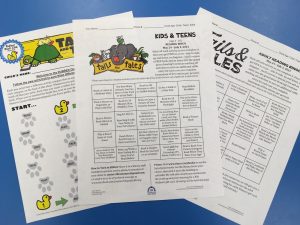 Download Your Tracking Sheet:
Rubber Duck Club (for ages 0-4)
Reading BINGO for Kids and Teens
When you're ready to select your prize book, check out the full list of available books here. Click on the drop-down menu at the top-left of the page to select just the categories you want to see.
And don't miss the fun activities we have planned:
Family Outdoor Storytime – Join us outside each Wednesday to read animal books. Space is limited, so please RSVP each week for your family's spot.
Library Lawn Scavenger Hunt – Can you find all the animal print-outs hiding outside on library grounds? Pick up your scavenger hunt sheet at either service desk. When you return the completed form, you'll receive a small prize.
Weekly Animal Trivia – Check our Facebook page each week for a new animal trivia question (you can also turn in your guess at either of our service desks). All correct answers will go into a weekly drawing for a $5 food gift card.
Guess the Tail from the Tale – Guess the children's book animal characters from pictures of just their tails! Everyone who completes the quiz will be entered into the drawing for a drawstring bag containing a puppet, coloring book, and crayons!
StoryWalk® – Stop by the library anytime to read an interactive story that walks you around the outside of the building. Everyone who completes the brief survey at the end will be entered to win a youth gift basket donated by Warm Glow Candle Company. (The StoryWalk® Project was created by Anne Ferguson of Montpelier, VT and developed in collaboration with the Kellogg-Hubbard Library. Storywalk® is a registered service mark owned by Ms. Ferguson.)
Silly Sidewalk Obstacle Course – Any time you visit the library, you can hop, jump, and stomp your way through our sidewalk obstacle course!
Adult Crafts – Adults can pick up a grab-n-go bag with a different craft and coloring sheets each week, while supplies last! Check out our Facebook page each week to see the new craft and share a photo of your completed project.
Shelter Pet Day (details coming soon)